Saving layout
One Moment...
Resetting layout
One Moment...
Aberdeen 4 - 0 Third Lanark
HT Score: Aberdeen 1 - 0 Third Lanark
Scottish Cup Second Round
Aberdeen scorers:
Hamilton
42,
Hamilton
50,
Emery
69
(Pen)
,
Hamilton
81.
Aberdeen's stylish victory over Third Lanark on Saturday stamped them as live candidates for Hampden Park and the final. It took them some time to settle down. They were the better team in the first half, but it was not until the opening goal arrived that they really started to produce a smooth and subtle brand of football. Four of Aberdeen's five forwards are in their thirties, but think of the wealth of football experience and intelligence shared by Delaney, Hamilton, Baird and Pearson. The left winger had a twinkle in his toes against Third Lanark. Pearson and Hamilton seemed to work by mental telepathy, the winger supplied the balls from which Hamilton registered his hat-trick. THE Dons' leader took his three goals neatly and expeditiously and he can now claim to be leading "A" Division marksman. His bag in cup and League games to date is twenty-six, one more than Laurie Reilly, the Hibs' leader. Baird played well, particularly in the second half. In this period he did a lot of foraging and struck up an excellent understanding with Pearson. Delaney retains a good deal of his youthful exuberance. His speedy touchline dashes and his habit of popping in unexpected places had an upsetting effect on the Cathkin defence. Yorston, the youngster of the line - he is only twenty-one years old - did not reveal the same driving power as he did against Ranger YOUNG was outstanding in the Aberdeen defence. He halted all traffic down the middle. The centre-half was quick in the tackle, but was never flurried. Harris kept a good grip of Mason, but Anderson is still struggling to get back to his early season form. Emery had the measure of Staroscik and Shaw had little difficulty in keeping Goodall quiet. Martin was safe in goal, although in the second half he was practically an onlooker. Third Lanark have no reason to be happy about their League position, and unless they can strengthen their attack it seems to me that they are liable to land in trouble. It could hardly be expected that Aitken would be at his best after his long lay off. The former East Fife half-back played a serviceable game, but he was not the strong, forcing player he was before his self-imposed temporary retirement.
Source: Evening Express, 12th February 1951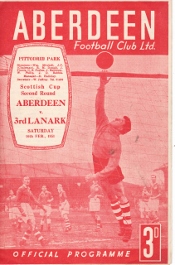 Aberdeen Teamsheet
Martin
,
Emery
,
Shaw
,
Anderson
,
Young
,
Harris
,
Delaney
,
Yorston
,
Hamilton
,
Baird
,
Pearson
.
Third Lanark Teamsheet
Simpson, Balunas, Harrower, Adams, Samuels, Aitken, Goodall, Mason, Cuthbertson, Dick, Staroscik
Attendance: 28,000
Venue: Pittodrie Stadium, Aberdeen
Referee: W. Brown, Bellshill