Saving layout
One Moment...
Resetting layout
One Moment...
Aberdeen 2 - 0 Hibernian
HT Score: Aberdeen 1 - 0 Hibernian
Scottish Cup Quarter Final Replay
Aberdeen scorers:
Hamilton
12,
Hamilton
49.
Aberdeen qualified to meet Third Lanark at Ibrox Stadium in one of the semi-finals of the Scottish Cup by beating Hibernian at Pittodrie Park yesterday in their fourth-round replay. Hibernian sadly missed the leadership of Smith - both he and Howie were absent because of injury. Although they played more polished football than their opponents the forwards failed badly in front of goal. Numerous forward-line switches - particularly in the second half - failed to produce a goal-scoring combination, and in the end Aberdeen were worthy winners. Hamilton, who replaced Hay at inside left, showed the way to score with a superb headed goal 12 minutes after the start, and his second goal, four minutes after half-time, ended Hibernian's hopes. Martin and Shaw were outstanding in Aberdeen's defence. Allister was a forcing wing half, and Young kept a close watch on Reilly. In attack Aberdeen were best served by Hamilton and Buckley, whose bustling tactics gave Paterson little respite. Govan and Buchanan were Hibernian's best defenders.
Early Chance
Hibernian might have led early in the game when Young missed his kick and Martin had to race out and drop on the ball with Johnstone rushing in. Then came a perfectly placed header from a Rodger cross. For the rest of the half the first-time tackling of the home defenders foiled the leading-up play of the Hibernian forwards and Martin was rarely tested. During this period Harris was off for eight minutes after having collided with Allister. A great shot by Allister almost put Aberdeen farther ahead shortly after the restart but immediately afterwards Hamilton cleverly prodded the ball into the net following a corner kick by Hather.. The attendance was 42,000 and the gross gate £4407.
Source: The Scotsman, 19th March 1953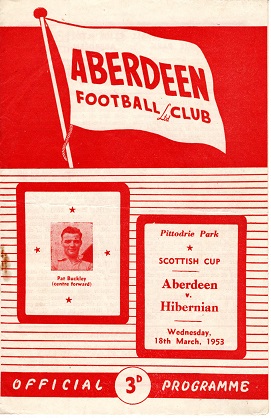 No, there's nothing like The Cup. League matches may be entertaining, they may be thrilling and thoroughly enjoyable, but this "sudden death" business of the "Scottish" just has everything. Wednesday's match had caught the imagination of the football loving public up here and there was an amazing turnout for a mid-week game. It was most unfortunate for Hibs that Gordon Smith should have injured himself training, but we feel sure that the Dons would have triumphed even though Smith and Howie as well had been in opposition. It was a day when the Pittodrie lads went to meet the ball and simply refused to be beaten. After the game the Board Room was crowded with officials from other clubs and with all the "Star" reporters and all agreed that the Dons thoroughly deserved their triumph.
Source: Match Programme 21st March 1953
Aberdeen Teamsheet
Martin
,
Mitchell
,
Shaw
,
Harris
,
Young
,
Allister
,
Rodger
,
Yorston
,
Buckley
,
Hamilton
,
Hather
.
Hibernian Teamsheet
Younger; Govan, Clark; Buchanan, Paterson, Gallacher; Combe, Johnstone, Reilly, Turnbull, Ormond
Attendance: 41,880
Venue: Pittodrie Stadium, Aberdeen
Referee: W. Brittle, Glasgow