Saving layout
One Moment...
Resetting layout
One Moment...
Aberdeen 3 - 5 Raith Rovers
HT Score: Aberdeen 2 - 3 Raith Rovers
Div 1 (Old)
Aberdeen scorers:
Leggat
20,
Boyd
30, Young (OG) 89.
Raith Rovers scorers:
Copland 5, McEwan 39, Copland42, Copland 49, Copland 88
Pittodrie pets pulverised "proper"! The result as Aberdeen last Saturday was almost a sensation throughout the land but no-one who saw the game would deny that on the day's play the better team won. Mind you, fortune favoured the visitors on more than one occasion but Dons' supporters could not grudge them the points, if only for the swashbuckling manner in which the visitors took their chances. "Ernie" Copland will play in many a game before he succeeds in netting in a manner approaching that goal he scored from the corner. It was a real "hit or miss" effort but the ball, hit in the air a foot from the ground, went flashing past Martin like a bullet! The Dons strove hard but had missed their chance when they failed to consolidate after getting the lead in the first half.
Source: AFC Programme, 7th April 1956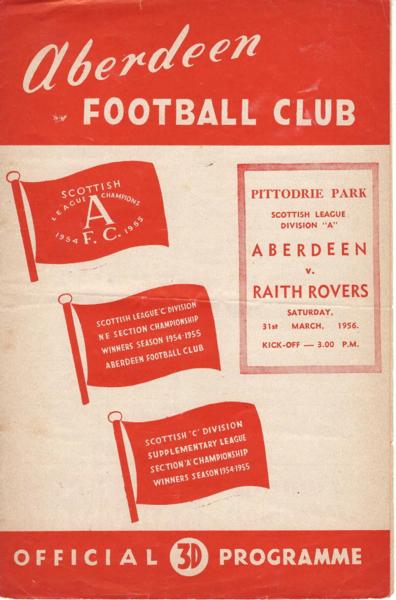 Aberdeen Teamsheet
Martin
,
Mitchell
,
Caldwell
,
Wilson
,
Young
,
Glen
,
Leggat
,
Yorston
,
Allan
,
Wishart
,
Boyd
.
Raith Rovers Teamsheet
Stewart, Polland, Bain, Young, Young, McNaught, Leigh, Carr, McEwan, Copland, Kelly, McMillan
Attendance: 18,000
Venue: Pittodrie Stadium, Aberdeen
Referee: T. S. Edwards, Portobello