Saving layout
One Moment...
Resetting layout
One Moment...
Aberdeen 6 - 2 Raith Rovers
HT Score: Aberdeen 1 - 1 Raith Rovers
Div 1 (Old)
Aberdeen scorers:
Johnston
42
(Pen)
,
Little
58,
Petersen
69
(Pen)
, Mackie (OG) 72,
Petersen
82,
Wilson
88.
Raith Rovers scorers:
Wallace 30, Wallace 86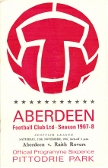 Aberdeen and Raith Rovers, from the Fife town of Kirkcaldy famous for its linoleum, have not met often in league matches. In this particular game a generation ago a listless first half was transformed after the interval when Aberdeen's flair and goal appetite paid dividends. 8,000 spectators were at the match. The visitors took the early initiative with Wallace twice threatening the Aberdeen goal. Aberdeen were slow to settle and when they did Kinloch and Davidson tackled effectively. Dave Johnston, the former Nairn County striker, had an amazing miss when he failed to make contact in front of goal when completely unmarked. He then was slow to react a few minutes later when Billy Little sent him trough. It really was pretty tame with neither side dominating in midfield. Martin Buchan let Jimmy Wilson away on the left wing but Jimmy Smith's shot from the cross was blocked. The Dons began to increase the pressure and the visitors were forced to concede corners. Jens Petersen came storming through for a strong shot but Reid was not being overworked in the Raith goal. Harry Melrose was working hard in midfield but generally play was uninspiring. The Rovers shook the Dons in 30 minutes. Porterfield, who was to become the Aberdeen manager twenty years later, started the move which ended with Wallace netting a good goal. The home team now attacked desperately with Smith providing most of the danger and he had an excellent shot well saved. The home supporters were becoming restless but they had something to shout about 3 minutes from the interval when a penalty was awarded for hand ball. Johnston mishit his shot but Reid was beaten by the lack of pace and mistimed his dive. Aberdeen redoubled their efforts and Little, Wilson and Smith all went close to scoring, with the first two named having shots blocked. The Dons were almost shocked again when Cunningham broke through but blazed his shot wide. Bolton almost gave the home team the lead when he diverted a Melrose shot past his keeper only for Kinloch to clear off the line. In 58 minutes Aberdeen took the lead when a Wilson shot was blocked and Little volleyed a tremendous shot past Reid, Rovers responded with a flurry and Bobby Clark punched out a Bolton lob. Smith embarked on one of his tantalising runs, beating three men and passing to Melrose, whose shot was deflected for a fruitless corner. Aberdeen were awarded a second penalty in 69 minutes when Petersen was fouled. The Dane took the kick himself and hammered the ball into the roof of the net. This goal put Aberdeen in command and 3 minutes later left winger Mackie could not avoid a Wilson cross and ran the ball into his own net! The home fans shouted for more goals and Petersen obliged in 82 minutes when he blasted the ball past Reid with the outside of his foot. 4 minutes later Porterfield sent Wallace through for his second goal and 2 minutes from time Wilson scored number 6 after Reid had saved from Petersen. It had been a productive afternoon for the home side.
Source: Match Programme, 25th September 1993
Aberdeen Teamsheet
Clark
,
Hermiston
,
Shewan
,
Buchan
,
McMillan
,
Petersen
,
Little
,
Smith
,
Johnston
,
Melrose
,
Wilson
.
Raith Rovers Teamsheet
Reid, Bolton, Gray, Kinloch, Davidson, Porterfield, Wallace, Stein, Cunningham, Sneddon, Mackie
Attendance: 8,000
Venue: Pittodrie Stadium, Aberdeen
Referee: W. Anderson, East Kilbride