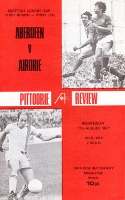 Defending cup holders, Aberdeen, found Airdrie and the new League Cup set up, played on a home and away basis afte-30 years of sectional ties, difficult to handle. Airdrie quite simply 'shut up shop' and were seldom seen as an attacking force in an easily forgettable first half. The home crowd were far from amused when in the 40th minute, the visitors in one of their rare attacks, forced a corner. However, no Airdrie player wanted to take it and after much delay and much to the referee's great annoyance the game eventually restarted. That incident actually changed the tempo of the mate and almost immediately Ian Fleming forced the ball home through a ruck of players to put Aberdeen ahead. The second half was much more entertaining with both sides pushing forward continuously. Fleming's second goal seemed to have given Aberdeen the two goal cushion they sought, but when John Kerr pulled back a goal after slack defending, the match was back in the melting pot. Thankfully for the Dons, Jim Shirra landed a 3rd goal a minute later and despite several close things around the Airdrie goal, the match ended with Aberdeen two ahead for the 2nd leg.
Source: Match Programme, 28th August 1991
The unused substitute was not named in the press reports.
Aberdeen Teamsheet
Clark
,
Kennedy
,
McLelland
,
Smith
(
Davidson
61),
Garner
,
Miller
,
Sullivan
,
Shirra
,
Harper
,
Fleming
,
Jarvie
.
Airdrie Teamsheet
Brian, Jonquin, Lapsley, Black, Collins, Cowan, McGowan (Wilson), McVeigh, Kerr, McCulloch, Clark
Attendance: 10,600
Venue: Pittodrie Stadium, Aberdeen
Referee: W. J. Mullen, Dalkeith