Saving layout
One Moment...
Resetting layout
One Moment...
St. Mirren 0 - 4 Aberdeen
HT Score: St. Mirren 0 - 2 Aberdeen
Premier Division
Aberdeen scorers:
Jarvie
24,
Jarvie
41,
Fleming
65,
Jarvie
83.
A healthy crowd of 13,000 flocked to Paisley for Scotland's match of the day, and within a minute of the start of the game the crowd saw goalmouth action. McGarvey cleverly created space at the edge of the Dons box but Willie Miller magnificently blocked the shot before playing the ball away to safety. Although the home side made an encouraging start Aberdeen looked more purposeful and only a brave save by Donald Hunter at Harper's feet prevented the league leaders from snatching the lead. The opening goal however was only partly delayed and when it arrived after 24 minutes it was a cracker. A fine passing move from defence involving Kennedy, Smith and Garner caught the Saints' players flat-footed and a clever one-two by Jarvie and Harper created the space for Jarvie to score comfortably past Hunter. With the large travelling Dons' support in full voice, Aberdeen dominated proceedings and that man Jarvie clinched the points with a second goal just before half-time. The St. Mirren rearguard didn't clear a Dons raid properly and Jarvie pounced on their fault and fired a low shot through a crowded goalmouth. The second half was played at a much slower pace with Aberdeen content to keep possession and had Joe Harper been at his deadliest the Dons could have scored an even more emphatic victory. As it was a solitary Ian Fleming strike and the completion of Drew Jarvie's hat-trick finished the scoring. The St Mirren players were relieved to hear the final whistle and although well beaten they were still very much involved in the title race. As for Aberdeen the confidence was there for all to see, with boss McNeil confident of great things to come.
Source: Match Programme, 5th October 1991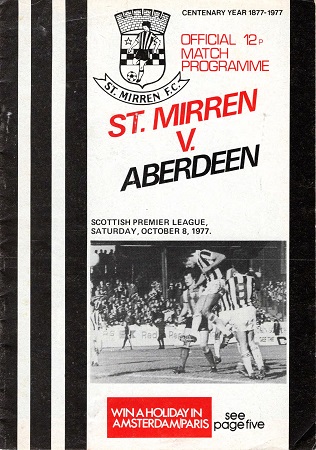 St. Mirren Teamsheet
Hunter, Beckett (Abercrombie 46), Young, Fitzpatrick, Reid, Copland, Docherty, Stark, McGarvey, Richardson, Hyslop
Attendance: 12,919
Venue: St Mirren Park (Love Street), Paisley
Referee: E. Thomson, Edinburgh