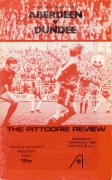 Aberdeen kept in touch with league leaders Celtic as a result of this win. The league title was to be Pittodrie-bound one and a half months later. Drew Jarvie scored his sixth goal in three matches against Dundee in season 1979-80. Only 7,000 spectators were present at this clash between championship-chasing Aberdeen and relegation-threatened Dundee. Play started untidily with both sides surrendering possession with hurried and careless passing. Aberdeen began to settle in the bitterly cold conditions and forced several unproductive corners. Most of the action was in the Dundee half of the field but Donaldson was not really tested in the first 20 minutes. Indecision by Andy Watson in his own penalty box gave Fleming an opening in 21 minutes but his chip shot grazed the top of the crossbar. Then Gordon Strachan had a fierce grounder deflected into the side-netting by Schaedler but the ensuing flag-kick was cleared. The Dons finally broke down the Dundee defence in 29 minutes. A long cross ball from John McMaster was headed down by Derek Hamilton and Andy Watson had just enough room to squeeze the ball past the keeper as he came out to challenge. Just before half-time the Dons' goal had a narrow escape when Mackie shot just wide of the upright. Both teams made substitutions at the interval, Ian Scanlon taking over from Hamilton and Corrigan replacing Sinclair. The first threatening move of the half came in 52 minutes when Watson was a shade high with a drive after Steve Archibald had headed on a Strachan corner-kick. Dundee now began to push forward more frequently and Fleming went close with a low shot. Ferguson replaced Murphy and then Scanlon had a close-range try well saved. However, the Dons had lost some of their earlier grip on the game and the Dark Blues were more menacing. The Dons' patient prodding was rewarded with a second goal in 80 minutes. Archibald had a good run down the right wing and. when he squared the ball to McMaster, touched it on to Drew Jarvie who scored easily. Aberdeen emphasised their eventual superiority with a third counter in 87 minutes Willie Miller, joining his strikers in the Dundee goalmouth, hooked the ball into the net after Archibald had had an effort blocked Although it was a deserved victory, the Dons had endured several sticky passages during the game.
Source: Match Programme, 22nd August 1992
Unused substitute not named in match report.