Saving layout
One Moment...
Resetting layout
One Moment...
Aberdeen 4 - 1 Rangers
HT Score: Aberdeen 1 - 1 Rangers
Scottish Cup Final
AET. (1-1 after 90 mins)
Aberdeen scorers:
McLeish
32,
McGhee
93,
Strachan
103,
Cooper
110.
Rangers scorers:
McDonald 15
This 97th Scottish Cup Final was watched by 53,788 spectators, almost 20,000 of whom were the Red Army. The effervescent Gordon Strachan was sparkling immediately and was the target for both Miller and Dawson. Referee McGinlay was alert to the tough treatment Aberdeen's playmaker was receiving and booked Bett for illegally halting Strachan. Alex McLeish headed the resultant free kick just over the bar. Aberdeen were stunned when Rangers scored against the run of play in 15 minutes. John McDonald headed a Dalziel cross past Jim Leighton and this goal heralded a spell of pressure on the Dons' defence. It was now a test of character for Aberdeen to rise to the challenge. Ex-Ruthrieston School footballer, Colin Jackson, was defending stoutly and an over-zealous Doug Rougvie was booked for a challenge on Jardine. A glorious equaliser delighted the Dons' fans in 32 minutes. A John Hewitt corner was cleared to McLeish and, from just outside the penalty-box, he curled a right-foot shot into the postage-stamp corner. With the Red Army roaring encouragement the Dons were buzzing again and just before half-time Strachan forced Stewart to make an agile save. McAdam replaced the injured Jardine and a series of petty fouls interrupted the flow of the game. Mark McGhee almost nipped in for a goal when McClelland mis-headed and Dalziel was slow to react when Russell sent him through on Leighton. After 10 minutes Dougie Bell substituted for John McMaster. Then McGhee had a goal disallowed after pushing McClelland. The game had lost much of its first-half fire, although the ever-dangerous Davie Cooper was providing some astute passes and dangerous free-kicks and Russell almost scored from his prompting. Eric Black replaced Hewitt in 71 minutes. He had only been on the pitch for three minutes when he almost scored with a header from a Stuart Kennedy cross. The Dons had rallied well and Kennedy made an opening for McGhee, who missed the goal by a couple of inches. The regulation 90 minutes finished with Leighton saving smartly from Dalziel. The 30 minutes of extra time became one of Aberdeen's proudest periods in their cup history. After only three minutes Strachan flighted a great ball for McGhee to head down and past Stewart. The destination of the cup was virtually decided just before half-time when McGhee's low cross from the left was tapped home by Strachan from several inches out. Aberdeen kept up the relentless pressure in the second half and, when Neale Cooper got the break o' the ball after it rebounded to him from Stewart's attempted clearance, he smashed it into the empty net from all of 10 feet from the goal line. The Red Army was overjoyed. Footnote: Famous Hollywood actor, Burt Lancaster, joined the Aberdeen F.C. celebration party at Gleneagles Hotel that night.
Source: Match Programme, 22nd January 1992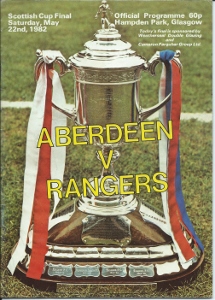 Aberdeen Teamsheet
Leighton
,
Kennedy
,
Rougvie
,
McMaster
(
Bell
55),
McLeish
,
Miller
,
Strachan
,
Cooper
,
McGhee
,
Simpson
,
Hewitt
(
Black
71).
Bookings:

Rougvie
(30),

Bell
(99).
Rangers Teamsheet
Stewart, Jardine (McAdam 46), Dawson, McClelland, Jackson, Bett, Cooper, Russell, Dalziel (McLean), Miller, McDonald
Attendance: 53,788
Venue: Hampden Park, Glasgow
Referee: B. R. McGinlay, Balfron