Saving layout
One Moment...
Resetting layout
One Moment...
Aberdeen 2 - 0 Lech Poznan
HT Score: Aberdeen 0 - 0 Lech Poznan
European Cup Winners Cup Second Round First Leg
Aberdeen scorers:
McGhee
55,
Weir
57.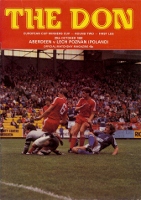 In this second round, first leg, match in the European Cup-Winners' Cup, Aberdeen scored only two goals against their Polish opponents but it should have been many more. Woodwork was struck on three occasions and the Dons forced nine corners before a goal eventually arrived. 17,600 saw the game. The Dutch referee gave an early indication of how he intended to handle the game when he awarded half a dozen free kicks in the first couple of minutes. Aberdeen went on the offensive immediately when Peter Weir's flag kick was met by Alex McLeish whose shot was blocked and Mark McGhee hooked the rebound past. A minute later Eric Black headed wde a John McMaster cross. Lech's first break saw Okonski send a 20 yard shot over the crossbar. The Dons attacked again and Doug Bell's effort went wide. With the referee's whistle constantly interrupting play, frequently for trifling offences, there was little continuity. Despite the home side's steady pressure the Polish 'keeper showed great confidence in cutting out crass balls anywhere around his six yards box. He did well to hold a Gordon Strachan rocket and he managed to scramble away a Black back header at the second attempt. Lech's efforts were confined to isolated raids and in one of these Willie Miller had to make a decisive tackle on Strugarek, injuring himself in the process. Five minutes before the half-time a hurried shot by Okonski whistled past Jim Leighton's left-hand post. A minute later McMaster sent a low shot just wide following a Strachan corner kick. The Dons came close to scoring just on the interval when Weir nudged a McGhee cross past the 'keeper but Black's header rebounded from the crossbar. The second half opened with Neale Cooper having a speculative attempt after an upfield foray. Black was again foiled by the crossbar in 51 minutes when he released a great 25 yard shot. The 'keeper then brought off a magnificent save to hold a Bell header, but the Dons made the vital breakthrough in 55 minutes when McGhee found the net with a header from a Weir corner. Lech then burst upfield and a Bak cross went abegging. Aberdeen, having tasted success struck again in 57 minutes when, after a fine run by Strachan into the penalty box, Weir turned the wee man's cross past Plesnierowicz. Aberdeen made a substitute in 71 minutes when Stuart Kennedy, injurec and out of action in the previous four games replaced Bell. Cooper switched to left back with McMaster moving forward to midfield. The Poles also had two substitutions. Weir let Strachan away but his left foot shot came back off the post and a McGhee-Strachan move ended with the 'keeper charging down Strachan's effort and McGhee hitting the rebound wide. Ten minutes from the end John Hewitt replaced Black. The Dons tried hard to increase their lead to make the journey to Poland less hazardous but the visitors survived the final onslaught.
Source: Match Programme, 3rd November 1993
Aberdeen Teamsheet
Leighton
,
Cooper
,
McMaster
,
Bell
(
Kennedy
71),
McLeish
,
Miller
,
Strachan
,
Simpson
,
McGhee
,
Black
(
Hewitt
80),
Weir
.
Unused Subs:
Gunn, Rougvie, Watson.
Lech Poznan Teamsheet
Plesnierowicz, Pawlak, Szewcyzk, Adamiec, Barczak, Strugarek (Kryzkowski 60), Kupcewicz (Niewaldonski 73), Oblewski, Malek, Okonski, Bak
Bookings:

Strugarek 49
Attendance: 17,600
Venue: Pittodrie Stadium, Aberdeen
Referee: E. Mulder, Holland