Saving layout
One Moment...
Resetting layout
One Moment...
Aberdeen 4 - 2 Celtic
HT Score: Aberdeen 2 - 0 Celtic
Premier Division
Aberdeen scorers:
Black
33,
McKimmie
45,
Black
61,
McDougall
85.
Celtic scorers:
Johnston 57p, McGarvey 84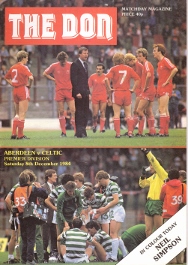 This was a very exciting game, possibly the best of the season as both teams participated in a torrid confrontation before 23,000 fans. The good football was interspersed with heated moments and 8 players were booked. Heavy rain had not dampened the enthusiasm of the sellout crowd and the supporters were simmering with expectation as the league's top two prepared to lock horns. Play started at a fast pace with both teams making attacking sorties. Billy Stark just beat Johnston to a Provan cross and when Frank McDougall sent in a low cross which eluded Bonner, Eric Black, Peter Weir and Stark all failed to get the vital touch. Tackles began to get heavier and the 100% commitment was keeping the fans engrossed. A flashpoint came in 24 minutes when McGarvey was booked for following through on Jim Leighton and several players became involved in unpleasantries. Willie Miller and Alex McLeish were solid and comfortable and Johnston was not getting the space to cause damage. Ian Angus and Burns were adding composure to their respective midfields. Bonner had to look lively to thwart efforts by Angus and Stark. Eventually in 33 minutes the lethal head of Black gave the Dons the lead when, from Weir's customary accurate corner kick, Eric headed the ball downwards into the net. Stewart McKimmie was having a great game with some surging runs down the right flank and McDougall should have profited from one of his crosses. Right on the stroke of half time McKimmie gained his just reward when he cracked home a 30 yarder which took a deflection past Bonner. Aberdeen resumed on the offensive and McDougall delayed his shot from a Black cross for McAdam to clear off the line. Celtic were not out of the hunt and they were given a lifeline in 57 minutes via the penalty spot. The award was given for an apparent push on McAdam and Mo Johnston gave Leighton no chance. The defending champions showed their mettle by restoring their two goal lead four minutes later. It was a carbon copy of the first goal as Weir's free kick resulted in Black's inevitable header finding the net. The pace of the game had not slackened and both teams were contributing greatly to the entertainment, with no quarter being asked or given as the yellow card continued to be shown by the referee. As the game entered its final 10 minutes Celtic strove to reduce the leeway and succeeded in 84 minutes when McGarvey netted a header. The Dons responded like true champions within a minute when McDougall headed a cross past Bonner. Brian Mitchell had replaced Stark only seconds before and his first touch of the ball was in providing the vital pass to Aberdeen's No. 9. It had been a rip-roaring game.
Source: Match Programme, 9th November 1993
.

Aberdeen Teamsheet
Leighton
,
McKimmie
,
McQueen
,
Stark
(
Mitchell
84),
McLeish
,
Miller
,
Black
,
Simpson
,
McDougall
,
Angus
,
Weir
(
Hewitt
88).
Bookings:

McQueen
(23),

McLeish
(64).
Celtic Teamsheet
Bonner, McGrain, MacLeod, Aitken, McAdam (McStay W (Colquhoun)), McClair, Provan, McStay P, Johnston, Burns, McGarvey
Bookings:

McAdam 18,

McGarvey 24,

McGrain 35
Attendance: 23,000
Venue: Pittodrie Stadium, Aberdeen
Referee: H. Young,Bellshill