Saving layout
One Moment...
Resetting layout
One Moment...
Norwich City 1 - 4 Aberdeen
HT Score: Norwich City 0 - 3 Aberdeen
Friendly
Norwich City scorers:
Erlandsen 87
Aberdeen scorers:
Bell
1,
McLeish
4, Walford (OG) 28,
Strachan
65.
The first week in January saw the Dons take a party on a flight south to Norwich for a match against the English Second Division side. But although they were many miles from home there were still plenty of Scottish accents around ... plus friendly faces. Norwich manager Ken Brown spent some time in Aberdeen at the pre-season tourney and built a relationship which enabled Fergie to arrange the trip. Right away Aberdeen ran into three Scots on the Norwich playing staff. That's Greig Shepherd who hails from Musselburgh, Ross Jack from Inverness and Glasgow-born former Scotland full back Willie Donachie. On the commercial front Norwich's commercial manager Mac Mackay has strong Aberdonian ties. His grandfather Robert was a builder in Aberdeen and his father Alex comes from Aberdeen too. Another Scot in the commercial department at Norwich is former long serving skipper Duncan Forbes. However, Aberdeen didn't let the friendly reception affect their approach to the game and they ran out 4-1 winners. The goals came from Doug Bell, Alex McLeish, Gordon Strachan and an own goal. One thing Aberdeen also got out of the trip as well as match practice and establishing friendly relations with yet another club down south was a look at how they were shaping themselves. For Norwich have a video camera which records all their games and the Dons have a video recording of the game.
Source: Pittodrie Match Programme, 30th January 1982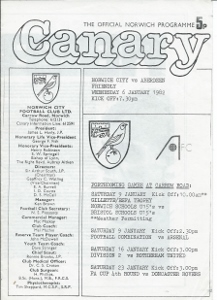 Norwich City Teamsheet
Woods, Symonds (Haylock 46), Downs, McGuire (Mountford 46), Walford, Harris (shepherd 46), Barham, Erlandsen, Deehan, Bertschin (Alexander 46), Bennett (Jack 46) Unused Subs: Ross Jack (second half sub), Peter Mountford (second half sub), Phil Alexander, Paul Haylock, Greig Shepherd.
Attendance: 4,000
Venue: Carrow Road, Norwich
Referee: Ian Borrett, Fressingfield