At Easter Road last week the attendance was undoubtedly cut down by the fog which hung over the Edinburgh district. Long before the kick-off there were numerous phone calls to inquire if the game was on or off. The Dons might easily have won their Hibs match. Partly due to the "run of the ball" and to a certain extent hesitancy and lack of care, the Dons just failed to cash in on their undoubted superiority. At the Hibs match the referee signalled for the lights before the teams kicked off. At the time the visibility was very poor, but it did improve later.
Source: Match Programme, 26th November 1960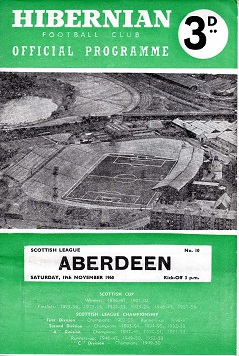 Ian Burns was acting skipper for the match. He became the first Aberdeen player to be sento off since 1951 when Pat McKenna was given his marching orders.
Hibernian Teamsheet
Simpson, Fraser, McClelland, Hughes, Easton, Baird, Buchanan, Kinloch, Baker, Preston, McLeod
Attendance: 12,000
Venue: Easter Road, Edinburgh
Referee: J. Blair, Paisley