Saving layout
One Moment...
Resetting layout
One Moment...
Aberdeen 3 - 1 Celtic
HT Score: Aberdeen 1 - 0 Celtic
Scottish Cup Final
Aberdeen scorers:
Harper
27
(Pen)
,
McKay
83,
McKay
90.
Celtic scorers:
Lennox 89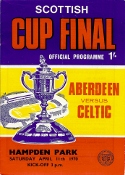 Aberdeen hold the Scottish Cup for the second time, having upset the odds at Hampden Park on Saturday by beating Celtic in the final before an attendance of 108,434. Their only previous success was in 1947 when they beat Hibernian 2-1 at Hampden. Aberdeen's progress to the last three rounds of this season's cup competition would provide excel-lent material for a boys' story book. Their quarter final and semi-final matches were each won by the only goal of the match, and in each case it was scored by McKay who after last season was freed by Dundee and believed, at 19, that his League football career had ended in failure. The restoration of his confidence took a great bound forward on Saturday when he scored Aberdeen's last two goals and contributed to the first. Harper scored it with a penalty kick awarded because a hand had deflected a shot by McKay. Let it not be thought however, that Aberdeen were a one-man band. Clearly the physical and technical preparation of the whole team for the task of beating Celtic had been excellent. Their strategy was based on massed defence, astute use of the off-side trap and lightning break-outs, in which the speed of Forrest was Aberdeen's chief asset. Lennox scored Celtic's goal in the 89th minute.
Source: The Times, 13th April 1970
Aberdeen Teamsheet
Clark
,
Boel
,
Murray
,
Hermiston
,
McMillan
,
Buchan
,
McKay
,
Robb
,
Forrest
,
Harper
,
Graham
.
Celtic Teamsheet
Williams; Hay, Gemmell; Murdoch, McNeill, Brogan; Johnstone, Wallace, Connelly, Lennox, Hughes (Auld 72)
Bookings:

Gemmell 27,

Johnstone 32
Attendance: 108,434
Venue: Hampden Park, Glasgow
Referee: R. H. Davidson, Airdrie