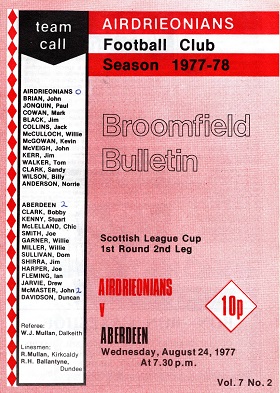 I travelled with the first team to Airdrie last Wednesday to see them beat the home side by 2 - 0, and it was good to see John McMaster (our reserve captain last season) playing well and scoring the two goals. The highlight of the game in my opinion was the display by Bobby Clark. In atrocious conditions he gave an immaculate display, everything he did was to perfection, and it was a pity our two young goalkeepers were not there to see it as it would have done them more good, than a coaching session.
Source: Teddy Scoot in Match Programme, 31st August 1977
The unused supstitute was not named in the local press reprots.
Airdrie Teamsheet
McWilliams, Jonquin, Cowan, Anderson, Collins, McCulloch, Wilson, McVeigh, Kerr, Walker, Lapsley
Attendance: 2,500
Venue: Broomfield Park, Airdrie
Referee: W. J. Mullen, Dalkeith