Saving layout
One Moment...
Resetting layout
One Moment...
Falkirk 3 - 3 Aberdeen
HT Score: Falkirk 2 - 1 Aberdeen
Premier Division
Falkirk scorers:
Hetherston 16, 22p, Eadie 68
Aberdeen scorers:
Stark
44,
McLeish
61,
Bett
90
(Pen)
.
Falkirk christened their new £35,000 floodlight system in this exciting encounter and Aberdeen found themselves 2-0 down after 22 minutes. Peter Hetherston had already given notice of Falkirk's threat when he hit the bar with Leighton beaten then opened the scoring after 15 minutes when he finished off a right wing move after Eadie's cross was flicked on by Ashwood. Hetherston added a second from the penalty spot after Mitchell had brought Willie McGuire down in the box. Referee McGilvray was surrounded by Dons players but he stood firm. The referee was to become the centre of controversy in this match which thrilled a 6,000 crowd from start to finish. Aberdeen pulled a goal back one minute before the break, when Stark headed home a Porteous free kick. In 61 minutes, the Dons drew level when McLeish took a pass from Bett and drilled a low right-foot shot past Watson from 35 yards out. Ken Eadie put Falkirk ahead in 69 minutes, volleying home off the underside of the bar from a Hughes cross and the Bairns seemed on course for their first home Premier League win, especially after the dismissal of Bobby Connor for a foul on McGuire. The home fans were whistling for full-time but referee McGilvray astounded and enraged the crowd when he pointed to the spot after Weir and Watson collided. It looked a complete accident and Bett converted the award. Aberdeen left the field to cries of "cheats, cheats" and even the partisan Aberdeen press admitted that the Dons had been extremely lucky to escape with a point. The Referee was the subject of all the post-match debates and neither side was happy at the decisions he made. Paul New, writing in the Falkirk Herald summed it up perfectly - "Floodlight Robbery". He had awarded two debatable penalties, ignored stronger claims from both sides, and seemed to find the knack of alienating everyone in the ground. The Daily Record Hotline was full of vitriol- and some sarcasm as well. S. Cruickshanks from Grangemouth stated, "Willie Miller should never be allowed to referee another fixture involving Falkirk. He awarded a non-existent penalty against them five minutes after he should have blown for time. If the SFA fine me £250, can I pay it in £2.50 instalments?" Classic.
Source: Falkirk FC Programme, 18th October 2008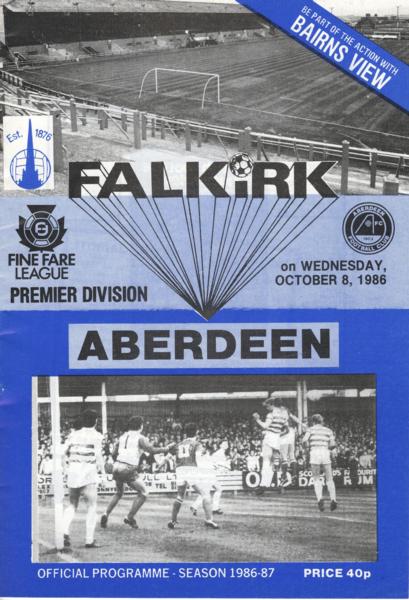 Falkirk Teamsheet
Watson, Martin, Dempsey, Purdie, Nicol (Hughes), Kemp, Hetherston, McGuire (Irvine), Eadie, McCormack, Ashwood
Attendance: 4,800
Venue: Brockville Park, Falkirk
Referee: J. McGilvray, Edinburgh