While pre-season friendly matches are notoriously unreliable as a guide to a team's form when competitive football does get underway, Arsenal can derive more satisfaction than their Aberdeen counterparts from their clash at Pittodrie on Saturday.

After a ragged start in which too many passes went astray and a defensive mix-up cost them the only goal of the game, the Dons showed a distinct improvement in the second half but their rhythm never really achieved its full flow, and a more than competent Arsenal side finished worthy winners.

The Pittodrie game, however, did hold some sources of encouragement for Aberdeen manager Alex Ferguson, including indications that Gordon Strachan is running into form in time for the start of the new season.


Dons' new signing, Billy Stark, is still feeling his way in the Aberdeen set-up but continues to suggest that he will be a valuable acquisition.

Missing from the Pittodrie line-up on Saturday were Peter Weir and Doug Bell, due to a stomach up set and a virus complaint respectively, but manager Ferguson is hopeful that both will be in the travelling party for the testimonial games against Ipswich tonight and Manchester United on Wednesday.

Arsenal manager Terry Neil was particularly pleased with the performance of expensive recruit Charlie Nicholas. The former Celtic striker's display was workmanlike rather than spectacular but he afforded the 11,700 crowd several glimpses of the ability which made him such a magnet for the top English clubs at the end of last season.

Although the Pittodrie game was a little too academic to be wildly exciting it had its passages of good football and there were minor goalmouth thrills at either end.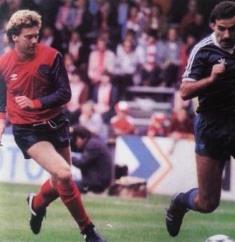 Arsenal looked the more likely to score in the opening exchanges but their goal game rather out the the blue when Brian Talbot took advantage of a misunderstanding between Alex McLeish and Jim Leighton to nod the ball into an empty net in 21 minutes.

In Aberdeen's efforts to equalise Mark McGhee had a try from a Strachan slip charged down, and the Arsenal goal had a double let-off in 34 minutes when a Strachan shot was cleared off the line by Paul Davis and a McLeish header rebounded from the crossbar.

Aberdeen, who used three substitutes in the second half, Brian Mitchell, Neil Simpson and Willie Falconer replacing Doug Rougvie, McGhee and Stark, twice came close to equalising, first when Strachan broke through after the interval and then when John Hewitt failed to find a way past Pat Jennings in the Arsenal goal in 66 minutes.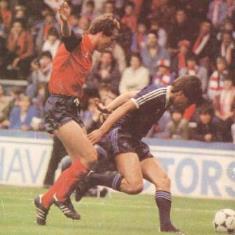 Aberdeen Teamsheet
Leighton
,
Rougvie
(
Mitchell
),
McMaster
,
Cooper
,
McLeish
,
Miller
,
Strachan
,
Stark
(
Falconer
77),
McGhee
(
Simpson
58),
Black
,
Hewitt
.
Unused Subs:
Cowan.
Arsenal Teamsheet
Jennings, Robson, Sansom, Talbot, Whyte, Hill, McDermott, Davis, Woodcock, Nicholas, Rix

subs: Chapman, Adams, Meade, Lukic
Attendance: 11,700
Venue: Pittodrie Stadium, Aberdeen
Referee: R. B. Valentine, Dundee